Chapter 1: The Queen of Evil
Unknown NYC cab driver and floundering filmmaker Oliver Stone gets a visit from a terrifying woman in his dreams. The evil character wakes him up to what might be called his "inner female" and he promptly jumps out of bed to make his first film, Seizure (1974) about her
​
1974: Seizure, Oliver Stone: Jonathan Frid, Martine Beswick, Herve Villechaize
* Debut Stone
Chapter 2: The Jailhouse Sex Scene
Following box office disaster and years of failure, Oliver delights in his first real break in Hollywood when commissioned to write Midnight Express (1978). From a crummy writer's room in London he pens the most sorrowful sex scene an actress has ever performed and wins the Academy Award for his script
​
1978: Midnight Express, Alan Parker: Brad Davis, John Hurt, Randy Quaid
Chapter 3: Hollywood Bosses
With the help of his "li'l fren'," Oliver creates the legendary screenplay for Scarface (1983). But, before its all over, he gets his first taste of the bitter pill of "the Business" when a single vulgar, sexist insult from producers robs him of his first choice of leading lady in favor of a younger model
1983: Scarface, Brian De Palma: Al Pacino, Michelle Pfeiffer, Steven Bauer, Mary Elizabeth Mastrantonio, Robert Loggia
Chapter 4: Hidden Figures
Turned off by the bad practices of Hollywood, Oliver goes rogue to independently make two war pictures in one year back-to-back, the way he wants to make them, but suffers in the end when the critics deliberately ignore all the female storylines, get mean and begin to label him a misogynist
1986: Platoon, Oliver Stone: Tom Berenger, Willem Dafoe, Charlie Sheen
* Oscar for Best Picture
Salvador, Oliver Stone: James Woods, James Belushi, Michael Murphy, John Savage
* 2 Academy Award nominations
Chapter 5: My Most Miserable Miscast
After his worldwide success with Platoon (1986) Oliver is accepted by the studio system as a bonafide director. But his own fatal flaw of being a man leads him to cast his fantasy woman in a lead role — a mistake that would make everyone uncomfortable and turn the set of Wall Street (1987) into chaos
1987: Wall Street, Oliver Stone: Charlie Sheen, Michael Douglas, Daryl Hannah, Martin Sheen, Hal Holbrook, Terence Stamp
* Academy Award for Douglas
Chapter 6: Oliver Falls in Line
Oliver learns how to "go along to get along" and finds it has its own rewards. From the mom in Born on the Fourth of July (1989) to the D.A.'s wife in JFK (1991), "progressive" Oliver Stone frames females in the way most acceptable to America's deep-seated patriarchal nature. The critics heap on the praise and Oliver makes bank​
​
​
Chapter 7: Most People Wouldn't See Me in that Role
In a total reversal, Oliver casts Kathleen Quinlan in a witchy role that makes conservative women squirm
1991: The Doors:
Chapter 8: The Woman's Cause
His Hollywood stride at full force now, Oliver puts on the producer hat to lend a hand to the ladies — including the future's first woman Best Director winner Kathryn Bigelow — to make some of the most female-friendly films of the century. But the powerful media patriarchy cannot tolerate much more of this season of "man-hating" movies and will surely have its revenge
Chapter 9: Oliver's Heartbreak
Gender equity in Hollywood sounds like a good idea, but, in the real world, no good deed goes unpunished. When Oliver makes a war picture about a woman the critics start up again and squash Heaven & Earth (1993) at the box office
1993: Heaven & Earth, Oliver Stone: Tommy Lee Jones, Joan Chen, Haing S. Ngor
Chapter 10: The Plucky Serial Killer Girl Next Door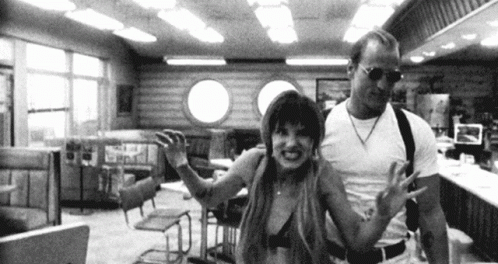 Chapter 11: It Happens All the Time
Anthony Hopkins' face went white when he saw his co-star, Joan Allen, lose a much-deserved Best Actress Award for her role as First Lady in Oliver's Nixon (1995) to a hooker caricature in Woody Allen's Mighty Aphrodite
1995: Nixon, Oliver Stone: Anthony Hopkins, Joan Allen, James Woods, J. T. Walsh, David Hyde Pierce, Ed Harris, Paul Sorvino, Mary Steenburgen, Bob Hoskins, Madeline Kahn
Chapter 12: There's a Girl in the Locker Room!
Not being a woman, Oliver couldn't have known how nervous Cameron Diaz would be to play the corporate bad guy in his football picture Any Given Sunday (1999) alongside the likes of Al Pacino and James Woods. But, in typical get-it-done Oliver fashion, he pulls a performance out of her that challenges the public to accept blended gender roles in media, whether it likes it or not
​
1999: Any Given Sunday, Oliver Stone: Al Pacino, Dennis Quaid, Cameron Diaz, Jamie Foxx, James Woods, LL Cool J, John C. McGinley, Ann-Margret, Matthew Modine, Lauren Holly, Charlton Heston
Chapter 13: Colin Runs for His Life
After playing the not-so-alpha-male Greek leader in Oliver's Alexander (2004), Dubliner Colin Farrell goes on a drunken binge to escape the tornado of homophobic publicity from the American media while Oliver just shrugs it off as another misunderstood "controversy." Meanwhile, Angelina Jolie indicates that Oliver is, indeed, a woman's director
2004: Alexander, Oliver Stone: Colin Farrell, Angelina Jolie, Val Kilmer, Christopher Plummer, Jared Leto, Rosario Dawson, Anthony Hopkins
Chapter 14: Conservative Women Tow the Line
Oliver gets back in line withWorld Trade Center (2006) and the box office rewards him richly. There's no doubt at this point that Oliver Stone goes both ways when depicting the women's sides of the story
​
1989: Born on the Fourth of July
2006: World Trade Center
Chapter 15: Don't Fuck with My President
Oliver's satire of the "worst president in US history" pisses off the first family; but Ellen Burstyn captures hearts with her portrayal of Barbara Bush and Condoleeza Rice wins the most-annoying-female- character-Oliver-has-ever-made award
​
2008: W.
Chapter 16: Wall Street II was Crap
Stone revives the iconic role of Greed-is-Good Gordon Gekko to challenge the character to live up to his role as a Girl-Dad; a move that pisses off America's Uber generation's Wall Street guys enough for them to snub the picture at the box office and call it a "Chick Flick"
2010: Wall Street: Money Never Sleeps, Oliver Stone: Michael Douglas, Shia LaBeouf, Carey Mulligan, Josh Brolin, Frank Langella, Susan Sarandon
Chapter 17: Woman vs Woman
Chapter 18: The Woman Behind the Whistleblower
Coming to international attention as Edward Snowden's girlfriend, Oliver thinks Lindsay Mills deserves a lot of credit for the leak on the NSA's global surveillance programs that led to charges of espionage and the couples' flight to asylum in Russia
2016: Snowden, Oliver Stone: Joseph Gordon-Levitt, Shailene Woodley, Melissa Leo, Zachary Quinto